- Providing the best quality and value in structured cabling, network cabling, and structured wiring products such as keystone jack, patch panel, network cables, fiber optics and many more.
- We also offer a wide range of Telecom Products, Coaxial Feeder Cables, Leaky Feeder Cables, Connectors, Jumpers, Splitters, Couplers and Antennas and all others accessories.
1) Coaxial Cable RG6

High quality 75 ohm RG6 coaxial cable for indoor cable TV and roof top antenna applications. The standard cable shielding is adequate for most broadband voice, video and data applications. Cable jacket is a black flame retardant PVC.
Cable construction is an 18 gauge copper covered steel center conductor, gas expanded polyethylene dielectric, inner-shield aluminum-polypropylene-aluminum laminated tape with overlap bonded to dielectric, 90% braided aluminum shield, and a PVC jacket. Nominal O.D. is 0.272 inches (6.91 mm). Meets NEC Article 820 V Rating (ETL listed). Package quantity is 1,000 feet +/-10 percent.
2) Coaxial Cable RG59

- Bonded tape, 67% braid, flame retardant PVC jacket. 75 ohm impedance. Meets NEC Article 820 V Rating (ETL listed). Package quantity is 1,000 feet +/-10 percent.
Multi-Purpose Cable
1,000 Foot Payout Box
Contractor Grade Cable
3) Coaxial Cable RG11

- 3GHz RG11 coaxial cable for DBS. 14 AWG copper/steel center conductor with nominal diameter of 0.0641 inches. Foam polyethylene dielectric. Shield is aluminum tape foil with 34 AWG aluminum 60% braid.
- PVC jacket. 20dB (5-1000 Mhz), 18dB (1000-2200 MHz), and 15dB (2200-3000 MHz) sweep tested. 75 ohm impedance.
DBS Applications
SRL 18 dB (1000 - 2200 MHz)
4) Network Cable CAT5E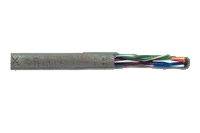 Category 5e cable is designed for residential indoor/outdoor LAN applications. This cable easily surpasses the Grade 2 requirements specified in the TIA/EIA 570-B Residential Telecommunications Standard. Category 5e compliance ensures this cable will support 1000BASE-T Gigabit Ethernet. Applications include 10BASE-T thru 1000BASE-T Ethernet, ATM, and Token Ring. 0.22 inch nominal diameter. 22 lbs per 1000 feet.
5) Network Cable CAT6

Cat 6e riser cable (CMR) with 23 AWG solid bare annealed copper conductors. Conductor color code: Blue-White/Blue, Orange-White/Orange, Green-White/Green, Brown-White/Brown pairs. Cat 6e riser cable applications: IEEE 802.3: 1000BASE-T (Gigabit Ethernet)100BASE-TX, 10BASE-T, ANSI/TIA/EIA-854: 1000BASE-TX, 155 Mp/s, 1.2 Gb/s ATM, ANSI X3.263: 100 Mb/s, IEEE 802.3af DTE Power (PoE), 4/16 Mb/s Token Ring, Digital Video, Broadband and Baseband Analog Video. 1,000 Ft Spool-Pac.
6) Fiber Optic Cable - Single/Multi Mode

SIFMA Fiber Optic Cable meets or exceeds accepted industry requirements for Single mode and Multimode Fiber Optic Cables and the mechanical, electrical and environmental performance requirements of ANSI/TIA/ EIA-445 Fiber Optic Test Procedures (FOTPs).
Our distribution fiber optic cable is a compact indoor cable with individually buffered fibers. Distribution fiber is available for Indoor, Riser (OFNR) or Plenum (OFNP) applications.
For more information on this product, contact us at sales@mechgen.net or call us at 04-2659501.