1) RGMS02T Smart Face Temperature Measurement & Face Mask Detection Device
RGM Digital's Smart Face Recognition Temperature Device uses intelligent algorithm to warn objects without masks and abnormal body temperature. It is not only a temperature monitoring machine, but also a smart terminal that supports 30,000 face recognition. It can be implemented with gates and access control.
It's features include:
1) Face Temperature Measuring
2) Face Recognition
3) Fever Warning
4) Face Mask Detection
5) Detection of up to 30,000 faces.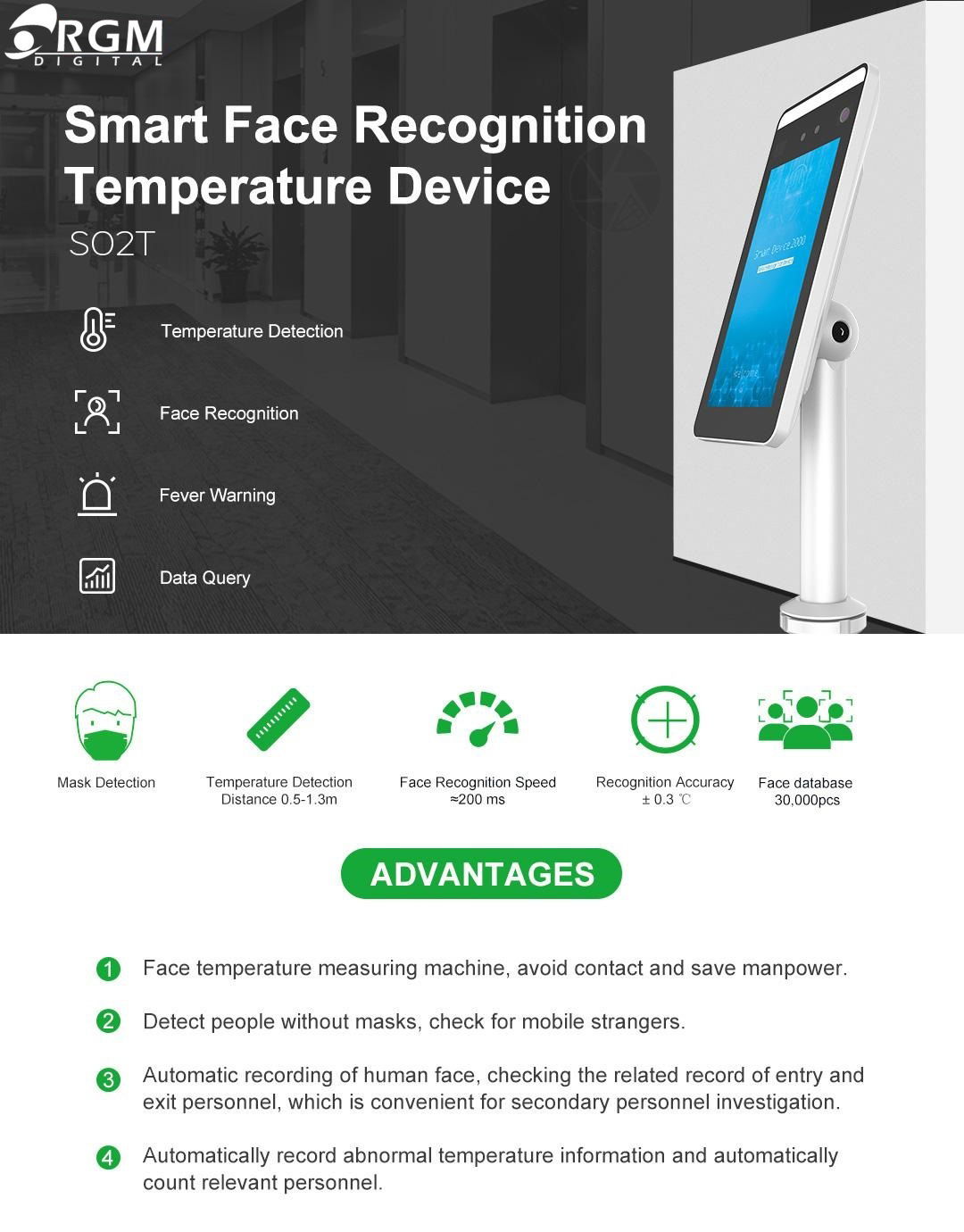 Watch a demonstration of this product here: https://www.rgm-digital.com/demos-1/rgm-digital-s-smart-face-software-demonstration.
2) RGMIRD20 Infrared Thermography & Disinfection System
This system is designed to measure human temperature and disinfect people for the purpose of cleanliness and health.
This system has 6 significant features:
1) Non-contact thermography measurement during the whole process, which reduces risk for cross-infection greatly.
2) Auto-focus, displays temperature in one second with precision of 0.3°C.
3) Automatic Fever Alarm detects people who have fever automatically, greatly reducing the workload of operators.
4) 360° disinfection allows induction spray of disinfection in 5 seconds.
5) Voice broadcast is convenient and fast.
6) Software for report analysis, the information is traceable meaning that no suspected person can be missed because the historic data is traceable.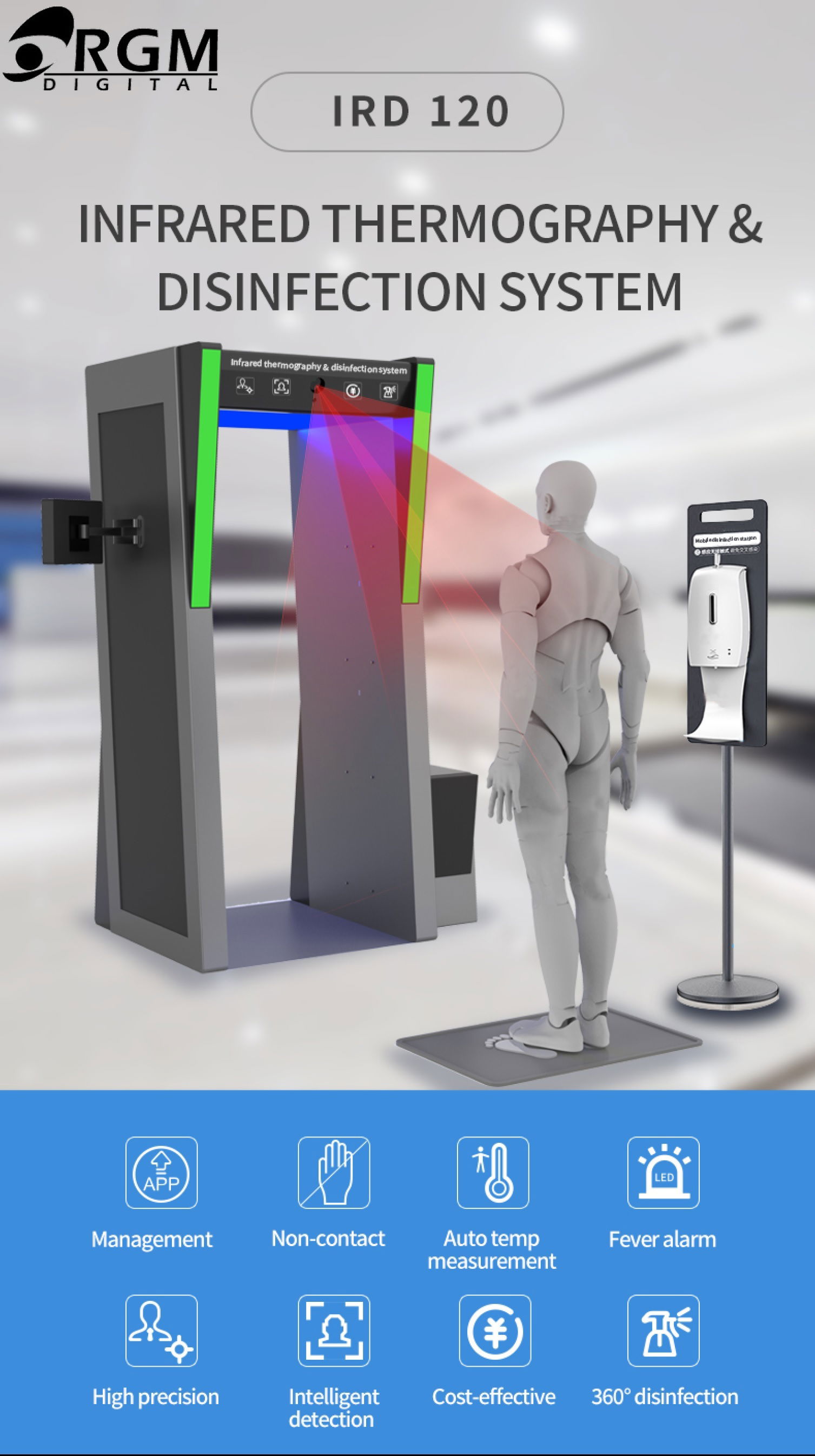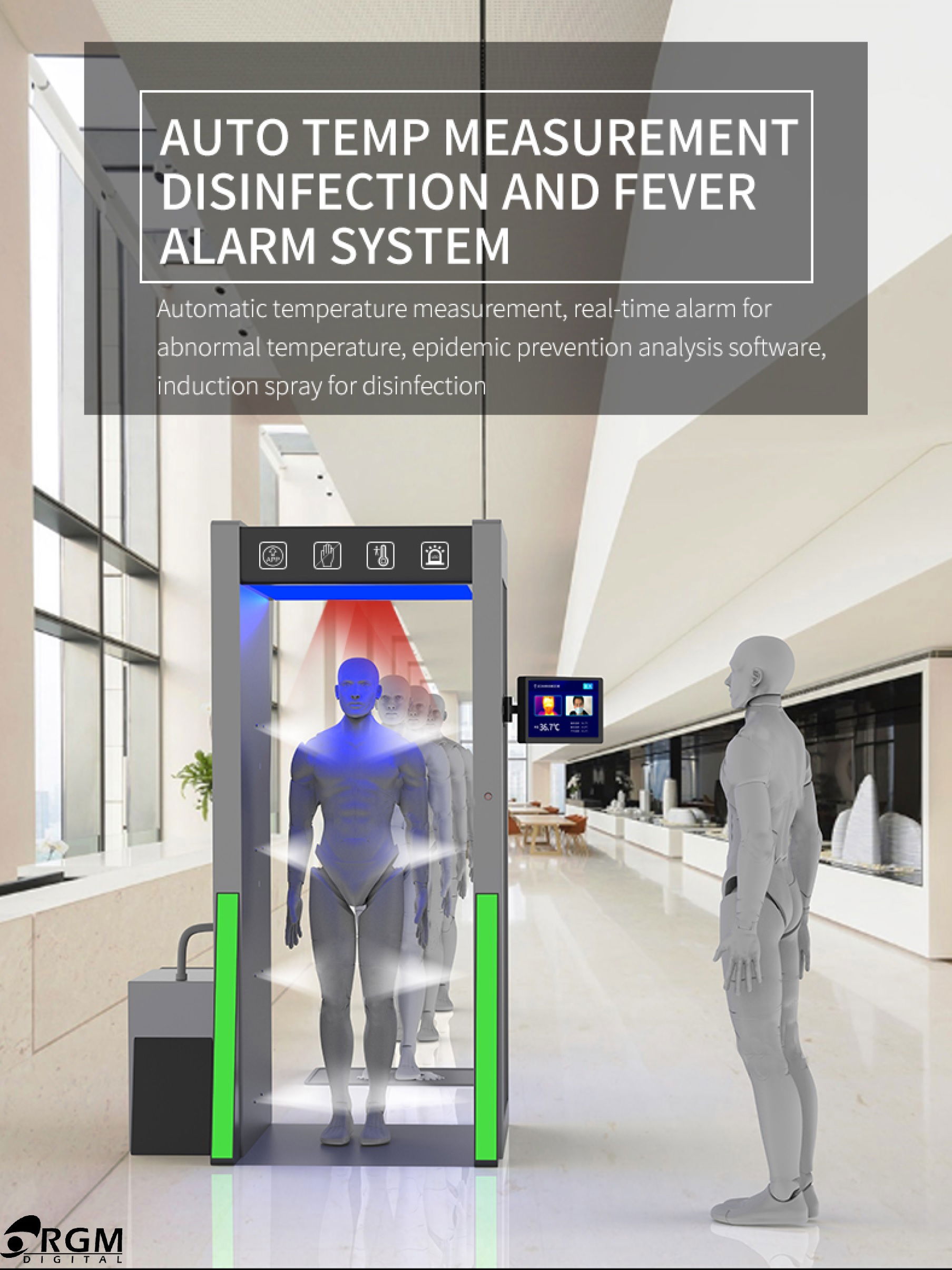 Watch a demonstration of this product here: https://www.rgm-digital.com/thermal-detection/rgmird20-infrared-thermography-disinfection-system.
3) RGM165H Handheld Thermal Imaging Device
This device is designed to provide accurate temperature measurement for individuals and increase safety of people during this pandemic.
This device has the following features:
1) Measurement Range: 30℃ ~45℃ (℃ and ℉ switch).
2) Accuracy: ±0.5℃ (1m).
3) Temperature Alarm: High/Low Temperature.
4) Contactless Measuring: 15cm-100CM.
5) Taking photo and save to SD car.
6) PC Software analysis and report output.
7) Tripod mounting hole(1/4 inch).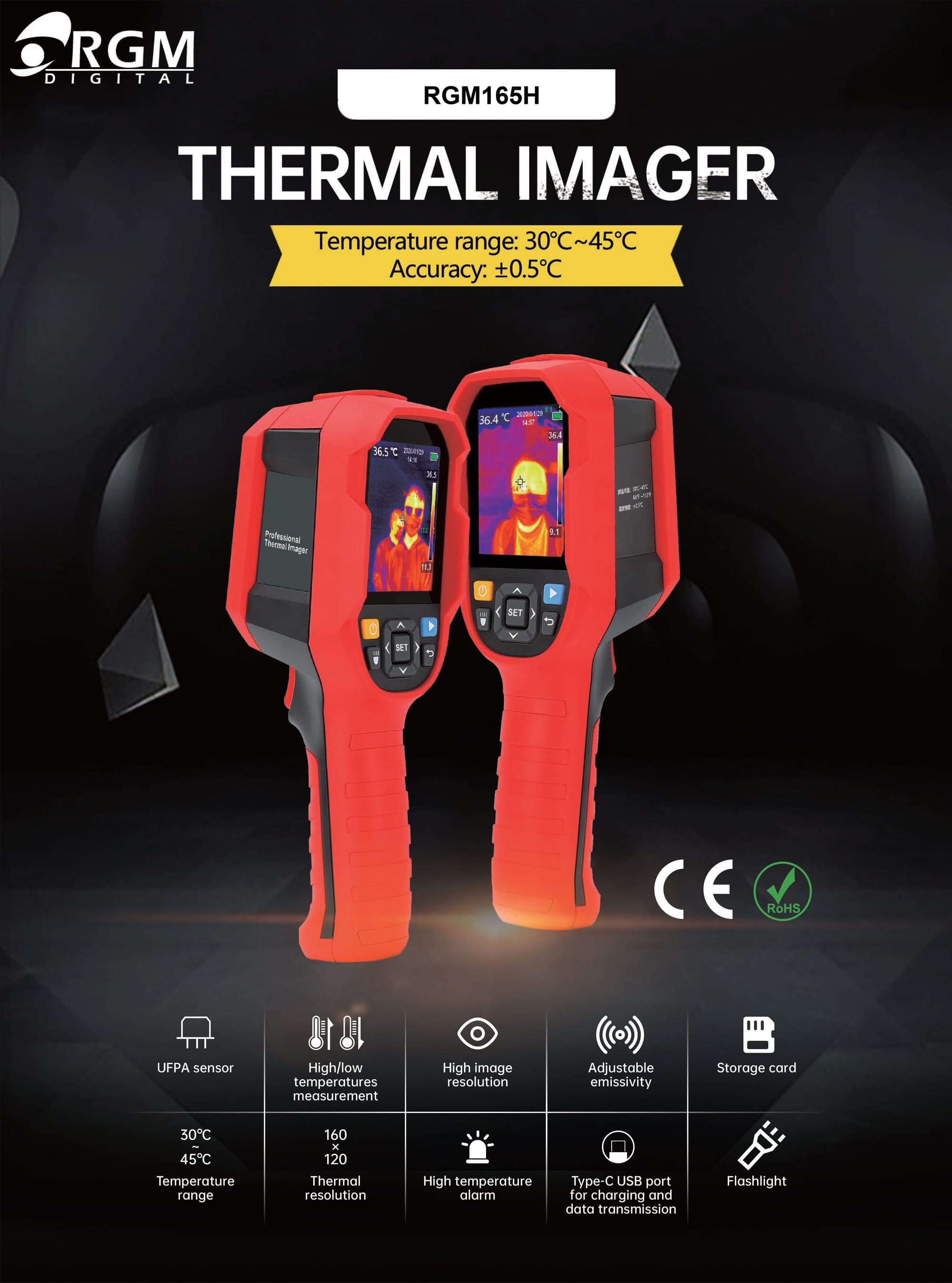 4) RGM-TI003 A.I Thermal Imaging Camera
RGM-TI003 Thermal & Optical Bi-spectrum Network camera is capable of highly accurate body temperature measurement, to within ±0.3 °C. The camera features a built-in Al algorithm for multi-person measurements up to 3m distances, enabling fast and non-contact access.
Perfect for adjunct use in hospitals, sub-acute health settings, public areas (i.e. airports), and more. Also can be widely used in close-range scene monitoring, such as indoor fire prevention, warehouse fire prevention, charging pile temperature monitoring and other fields.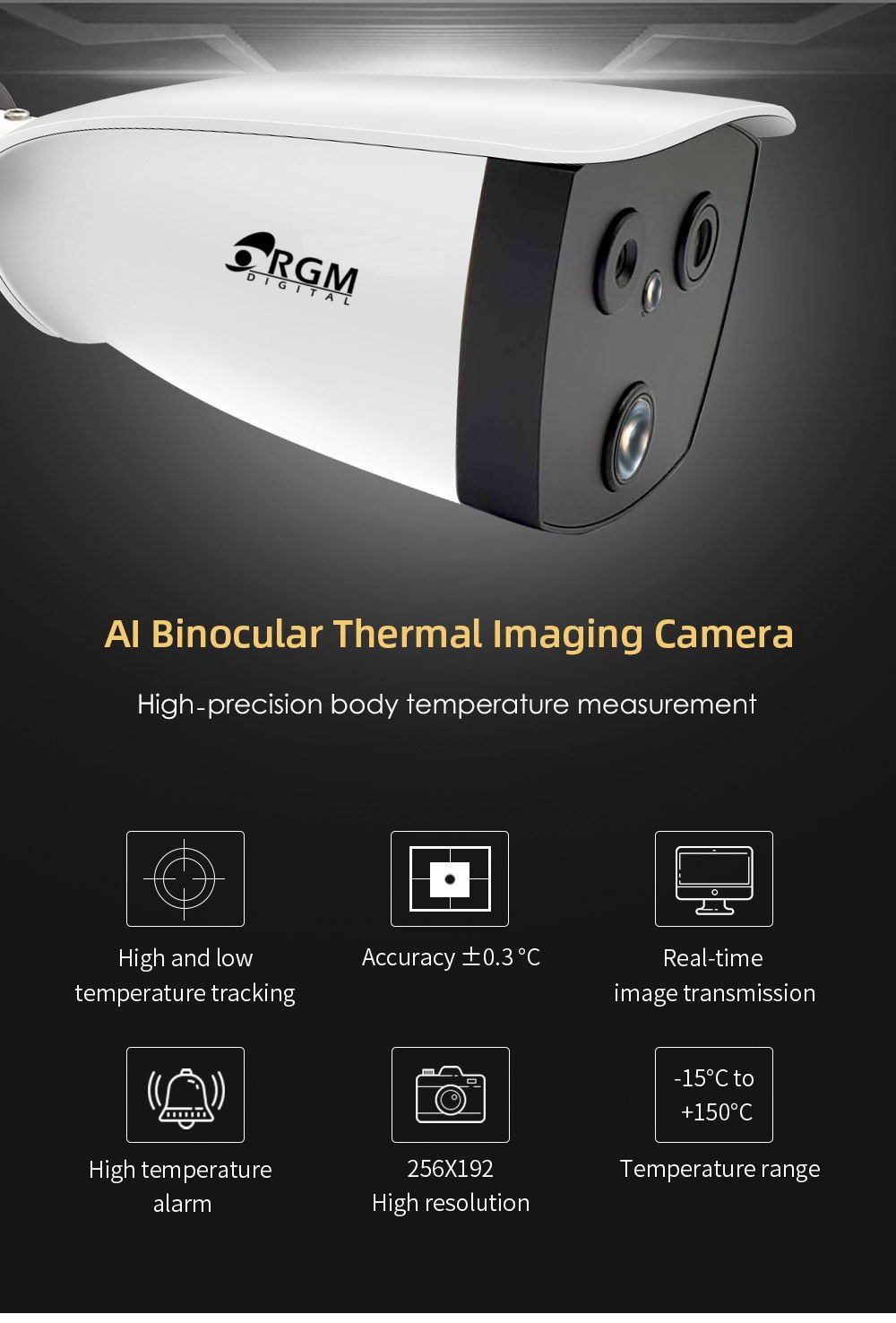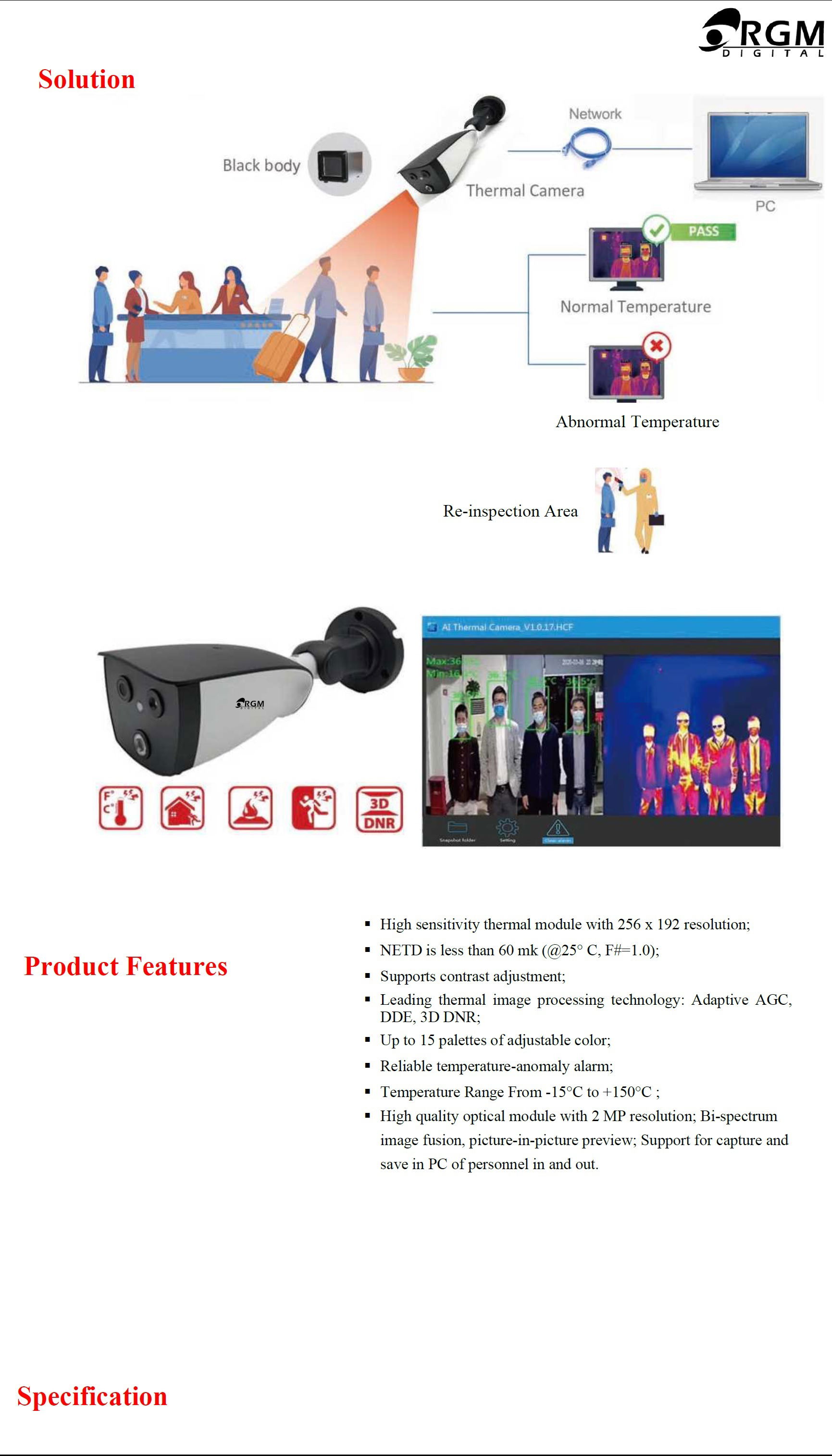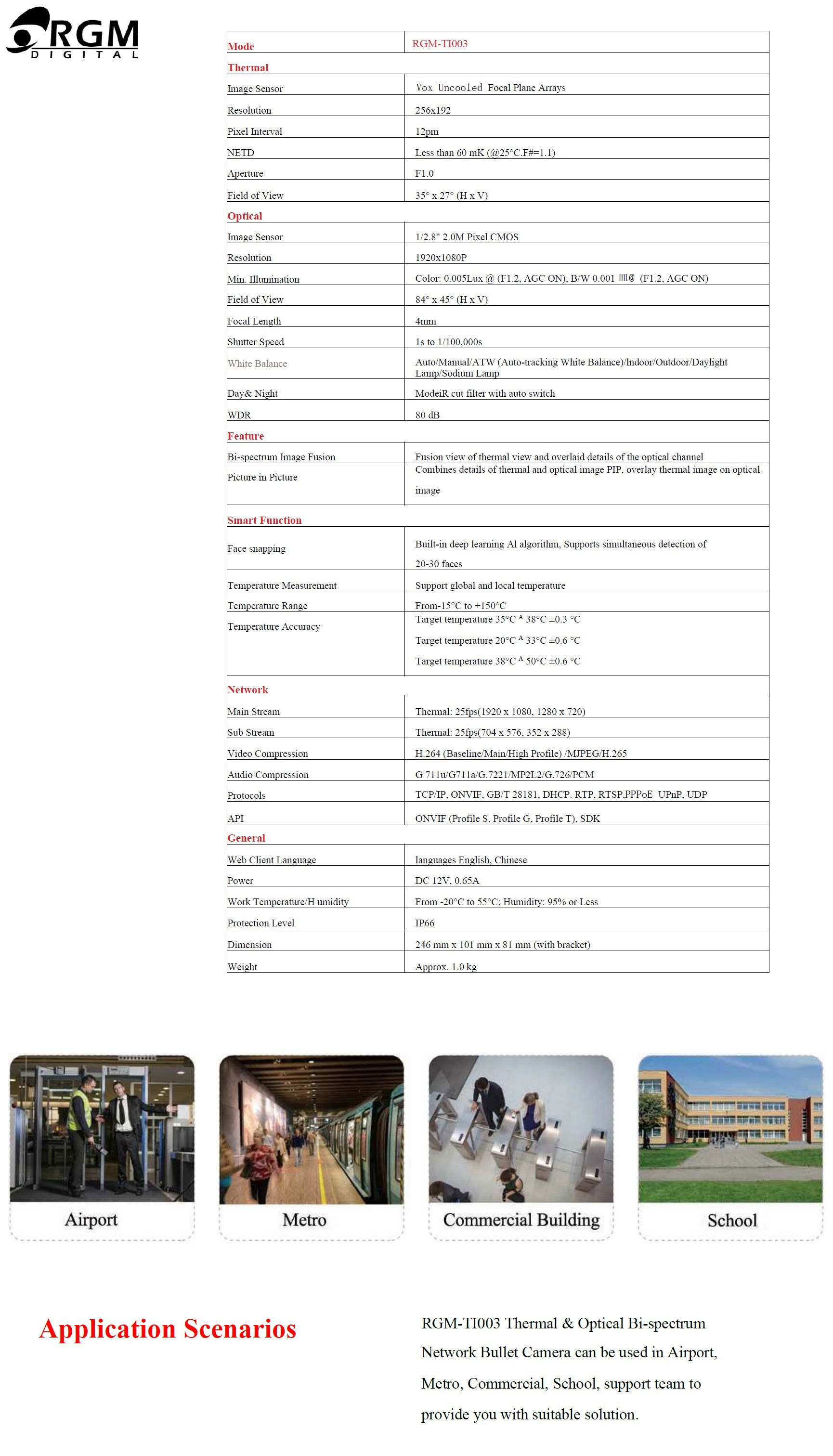 5) Handsfree Hand Sanitizing Dispenser Display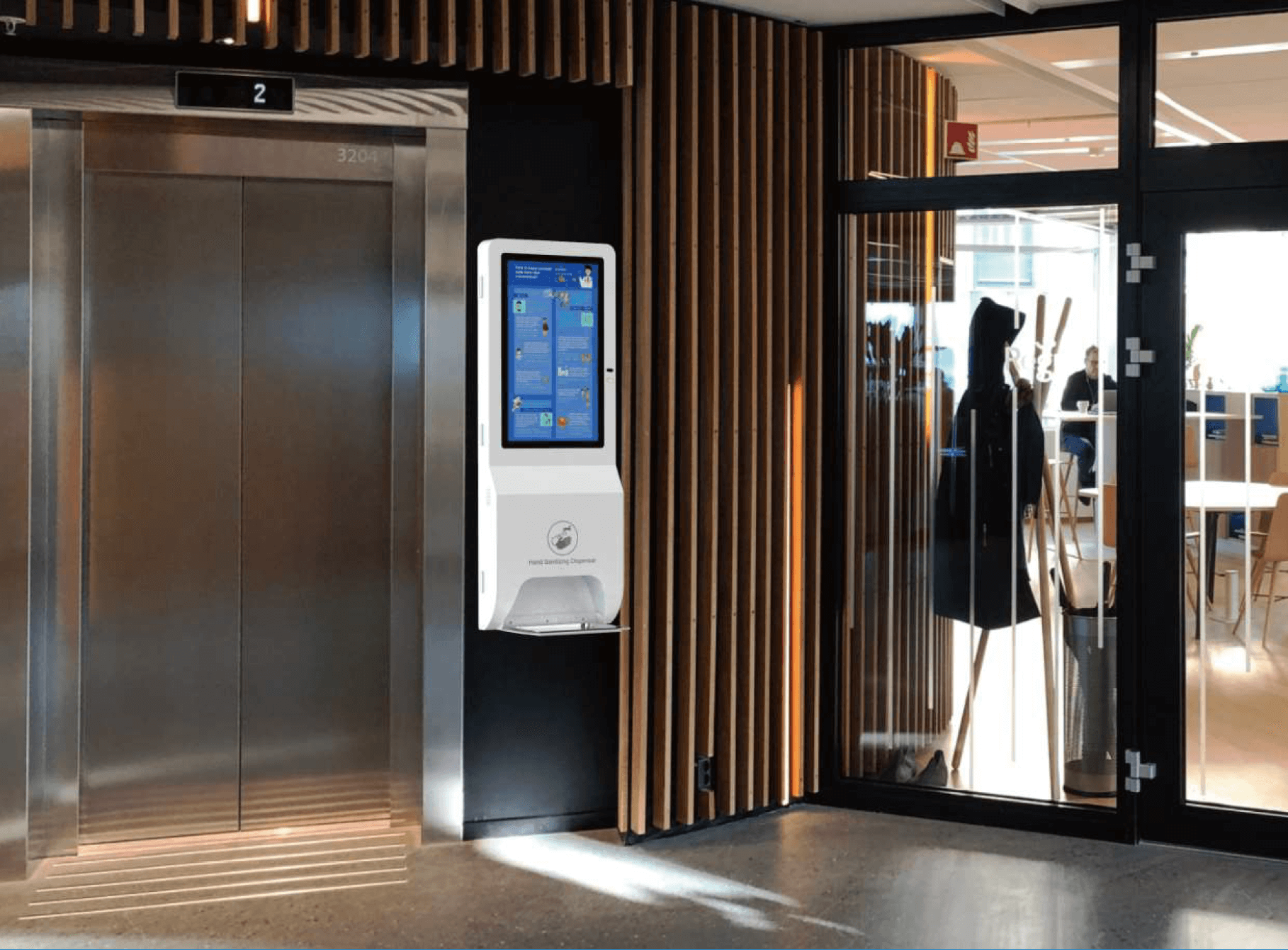 This device is has handsfree hand sanitiser dispensing ability along with a display screen that can be used for advertising and temperature measuring purposes. This device has the following features:
1) Waterproof Pro-cap Touch Screen
Our professional Pro-Cap touch screen get fast response and high precision performance, but the cool thing is it works great even with water on it!
2) Network CMS Upgrade
If standalone version can't meet your demand, we also can provide our cloud based CMS as well!
3) LED Backlight
Improves brightness and contrast as well as improving their lifespan and reducing their power consumption. Unlike other forms of light this technology is mercury free; making it even more eco-friendly. The panel and backlight have a lifespan in excess of 60,000 hours.
4) HDMI Input Support
High definition HDMI connector support 1080P content input, no headache for different demands from your client anymore.
5) IPS Panel
Superior image quality and colour depth at 178° ultra wide portrait orientations.
6) Touchless Dispensing
For the human public safty consideration, we made a motion sensor inside our hand sanitizing dispenser is real touch less.
7) Low Sanitizer Warning
There is a LED indicator light on the side of the screen to inform the user for our standalone version, but more cool thing is the CMS system can send the warning email to any specified address on our Internet version.
8) Dual Pump
We provide two pumps which supports spraying and drops.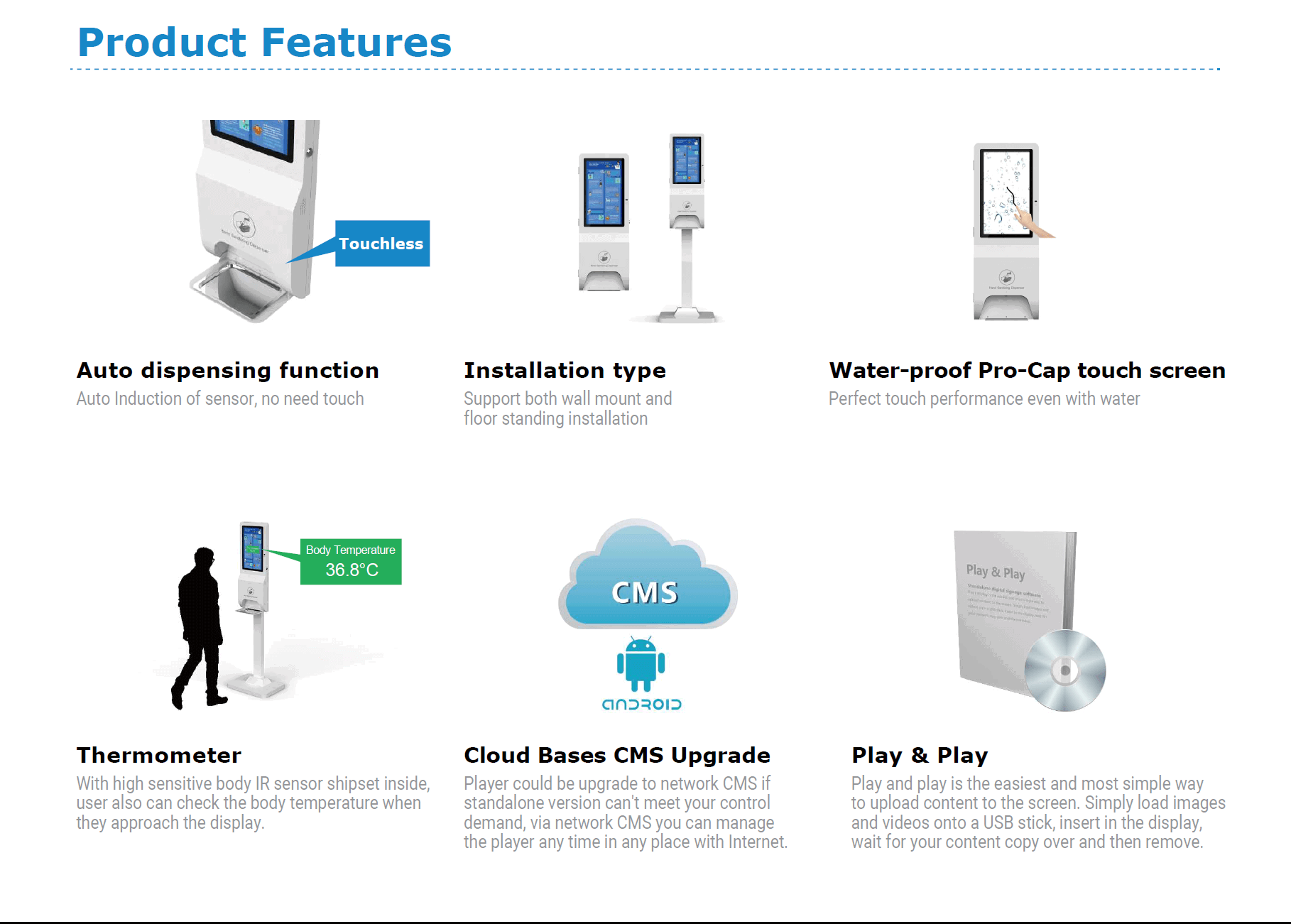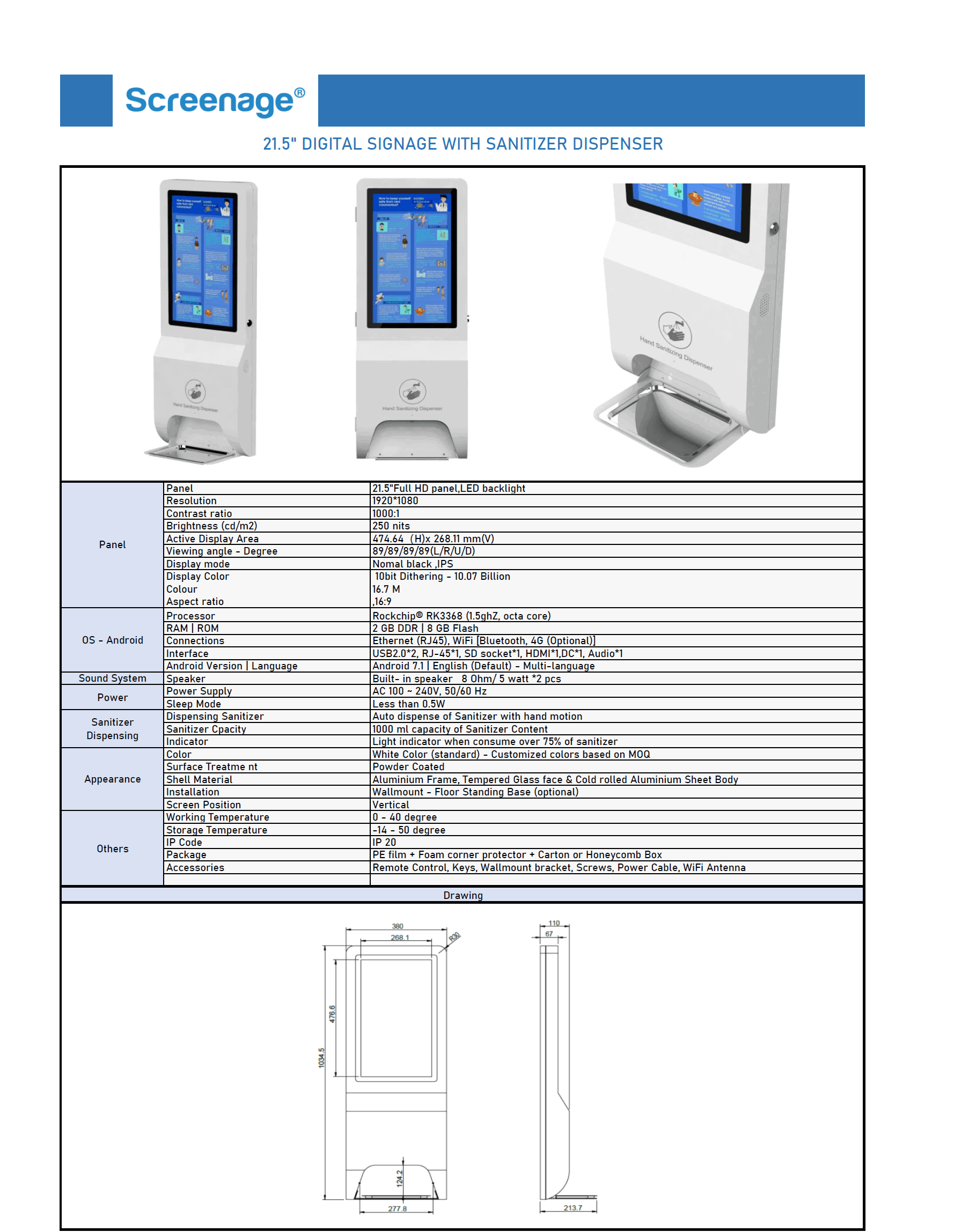 For inquiries or more information about our solutions, contact sales@mechgen.net or call 04-2659501.